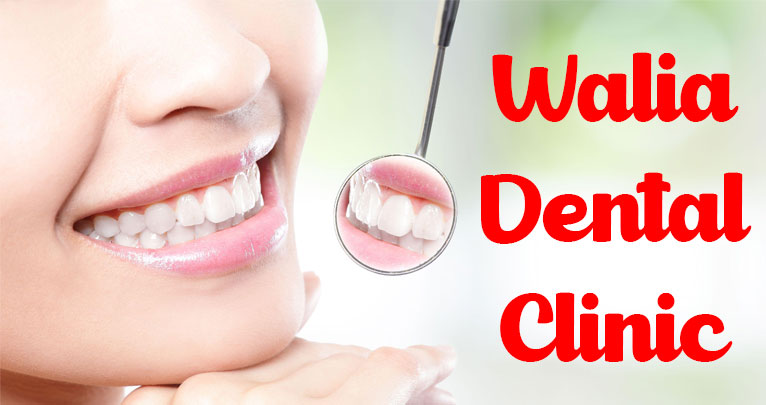 About Walia Dental Clinic

Walia Dental Clinic is specializes in Cosmetic Dentistry, Tooth Dental Implant, Denture, Oral Surgery, Root Canal, Crowns, Veneers, Orthodontics, Pediatric Dentistry, Bridges, Full & Partial Dentures, Extraction, Fillings & Restorations.
We do Tooth Implants or Teeth Replacements. In Tooth implant replaces missing, fractured, broken, chipped, cracked, teeth with artificial teeth Jawbones play a major part to support a prosthetic tooth. Teeth implants are inserted into the jawbone surgically, or on top of the jawbone and done using device similar to a nut and a pressure plate by oral surgeon. Prosthodontist determines the type of dental implant you need. Now you have dental implants at discount rates with inexpensive and affordable procedures.Cosmetic Dentistry removes unaesthetic appearance of the teeth to give good, pleasant, bright look to your face and smile. We make your teeth brighter to create confident, healthy, brighter smile,a complete smile makeover. Teeth's whitening is a kind of cosmetic dentistry to remove darkened, worn, decayed, stained,and discolored appearance of the teeth.It involves Teeth Whitening, Teeth Bonding or use of Porcelain Veneers.

Teeth whitening are done by dental bleaching. Teeth darkened or stained by cigarette or coffee stains are whitened by tooth bleaching. Teeth bonding can be used for chipped, broken teeth or worn, decayed, cracked teeth. Adhesive bonding is used to correct broken, chipped teeth, or spaced or fanged teeth.
Orthodontists use braces and retainers for teeth and irregularities of jaw to straighten teeth and fix jaw problems. We straighten overlapping, spaced, fanged, crooked, protruding, irregular, and misaligned teeth with wires and braces.
Dental care for kids, infants, children are very important and keep the special consideration in the same. As some Kids gums may become swollen and tender so we perform special dental care for children. We can treat infant tooth, baby tooth or milk tooth. Teeth grinding and clenching is a common dental problem for kids and some children have eating disorders. Night Guard Protectors are good to guard from Teeth Grinding and Teeth Clenching. It stops the damage done by bruxism.
We are also experts in Root Canal treatment. When gum and jaw becomes affected, swollen and inflamed causing tooth decay, toothache, or tooth loss with pain. Root Canal Therapy or gum and jaw surgery is needed to prevent the gum disease, swelling and bleeding. Teeth with history of pain are saved from extraction using Root Canal treatment.
Dental Crowns, Tooth Caps are used to restore, protect, and strengthen teeth and hold dental bridges. Dental Crowns are made using porcelain, a ceramic material, or metals like gold, or all resin. It is cemented on top of the teeth and the cement becomes the outer surface of the teeth. If a large area of the tooth is missing then tooth filling is applied.

Infection Control in our Dental Clinic

We are aware of the concern of people regarding the possible cross-transmission of diseases in dental offices. We practice universal precautions as recommended by the Dental authorities.
We autoclave (steam sterilize) our hand pieces (drill) and instruments. Those few items that cannot be autoclaved are either disposable or sterilized using chemical solutions. We wear gloves, masks, protective eyewear and surgical scrubs for our protection as well as our patients. Wherever possible, disposable single use items are preferred to ensure your safety. All surfaces in the treatment rooms are cleaned and disinfected after each patient.

We Follow Four Tier Sterilization Protocol For Non Disposable Instruments

Tier 1
All The Instruments Are Scrubbed Thoroughly With Spirit Swabs To Remove Any Attached Debris.

Tier 2
The Instruments Are Then immersed in chemical Sterilizing Solution For 45 Min For Standard Disinfection.
Chemical Sterilizing Solution
Concentrated cold sterilizer for heat-sensitive and heat-resistant instruments.


Complete viricidal action (including Hepatitis B, HIV, Polio, Vaccina and Rota).

Total bactericidal (including, MRSA/ EHEC, Helicobacter pylori) fungicidal tuberculocidal and sporicidal activity.

Lethal action against microbes; highly suitable for emergency disinfection.

Complete protection against corrosion; has in-built rust inhibitors

Excellent cleansing properties - no pre-cleaning required.

Areas of Chemical Sterilization:

Chemical use is ideal for the disinfection and sterilization of:

Instruments made of metal, porcelain, glass, plastic, stainless steel, ceramics, rubber

Diamond cutting burs, root canal and hand set instruments etc.

Tier 3
The cold sterile instruments are then packed in individualized sterile packs that contain instruments, gauze, cotton balls and suction devices. Our patients are reassured when a new pack of supplies is opened in front of them prior to treatment.

<![if !vml]><![endif]>

The standardized sterilization method used in our dental office is: autoclaving (steam under pressure), these measures are carried out rigorously and consistently and demonstrate our commitment to your safety.

Tier 4
Dental instruments in sterilized packages are stored in U.V CHAMBER to maintain the sterilization, which are opened in front of the patient.

We have been using individualized sterile packs that contain instruments, gauze, cotton balls and suction devices. Our patients are reassured when a new pack of supplies is opened in front of them prior to treatment. All needles and syringes used in our center are disposable. The glasses used for rinsing and towels used, as aprons for the patients are disposable too. Dental instruments are cleaned and sterilized at very high temperatures after each time they are used on a patient.
The sterilization methods used in our center are:

Autoclaving (steam under pressure), dry heat oven, chemical vapors (commonly called a chemiclave). These measures are carried out rigorously and consistently and demonstrate our commitment to your safety.

Never let uncertainty about safety keep you away from getting dental treatment done in India, or cause anxiety while you're here, because your and our health is too important. We as health professionals are more susceptible to contact infectious diseases while working on our patients. And therefore we follow stringent measures of sterilization and disinfection for everyone's safety.